Welcome to St Paul's Church, Ruislip Manor
Covid-19 has had a negative impact on our income. Can you help?
CHURCH CLOSURE
Further to our PCC meeting held on the 19th January, it has been decided that the church will remain closed until further notice. Please keep checking here for further updates.
Our Sunday Mass is live streamed via Facebook.
To watch a video-recording of the service for the Third Sunday of Epiphany, 24th January, please click here
Please using the 'Act of Spiritual Communion' (Click here to download a copy) along with the relevant readings which can be found on the Services page under Sunday Readings or follow the live recording on our Facebook page.
The Weekly Pew Sheet can be found under the News and Events page.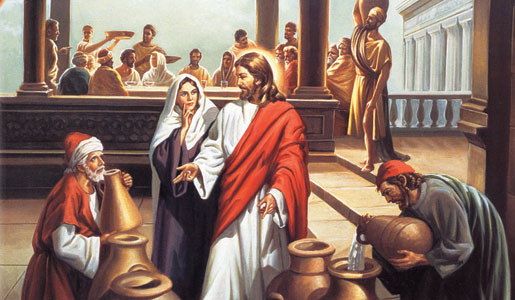 Sunday 24th January - The Third Sunday of Epiphany
A Wedding at Cana
Last week we heard the story of Nathanael and the vision he had that this man in front of him was the Son of God. He believed, not only because he heard Jesus tell him things about himself, but because of the vision that this man was the Messiah. You will remember that Jesus told him that he would see greater signs than that. And today we have the first of these signs recorded in John's Gospel, the water turned into wine.
It's one of those famous stories that people all know about, whether they go to church or not. The idea of water turning into wine appeals to us universally.
At its essence this is God's love bursting into the present world, as the heavens are opened, and God's power is seen. Those in the know, such as the disciples and Mary remember this miracle and their view of Jesus was changed forever. Nathanael didn't need lots of signs to give him faith, but most of us mere mortals do. The disciples saw many miracles in the months to follow and yet they were slow to truly understand what was before them.
What was before them was the life of heaven come down to earth, the love of God standing in human form at a wedding in a neighbouring town, the town that Nathanael came from. And when Mary notices that the wine is running out, she knows who can help to make everything OK. She asks out of faith and the banquet receives not only wine, but the very best wine they have ever drunk. This illustrates that God's love is more than just human love as we know it. God's love is the best love that we can imagine - indeed it is beyond our imagining - it is 'out of this world!'
Whether you are looking for somewhere to worship, have a baptism or wedding,
or just want to know more about us, we hope that you will find the information you want.
We seek to be inclusive, and welcoming, to everyone regardless of their experience and human diversity. We are ordinary people seeking to know God in a deeper way and making His presence known and real in our lives and our local community.
God welcomes us and meets us where we are in life. That means that all are welcome - whether you believe, or are not sure or just want to find out a bit more about the Christian faith and our church.
Just come as you are - you are very welcome.

Click here for more information on how to
help our church with Easy Fundraising

Click here for more details on the Memory Café